New Hobbies for the New Year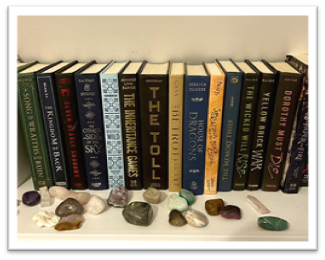 As we begin the New year many people make resolutions to help themselves grow and improve their lives. This time of year is an amazing time for change and transformation. One relatively easy way to expand your horizons and grow in 2023 is by starting a new hobby. There are hobbies for everyone ranging from physical outdoor activities to the arts to social activities.
#1 Reading
I personally find reading to be a very enriching hobby that allows you to learn about new topics and expand your vocabulary or just simple relax in comforting stories. We have various libraries in our surrounding area such as the one in Frankfort or New Lenox. Even Closer, is our library in our very own school which has a surprising selection of up-to-date books.
#2 Origami
Origami is a Japanese art in which paper is folded to create ornamental shapes and sculptures. Not only is it a relaxing activity but origami improves your concentration but also your fine motor skills. This is another hobby that requires relatively little purchasing considering you simply need paper which you probably already own. In addition, the internet provides easy access to templates and instructional videos that are relatively simple to follow along with.
#3 Yoga
Yoga is a great hobby to promote physical and mental health. Yoga has numerous benefits ranging from improved flexibility to decreased stress levels to relieving chronic pain. In addition, yoga has been seen to help balance and discipline. Many local places and gyms offer classes and if you prefer the comfort of your home there are lots of online instructional courses.
#4. Baking and Cooking
Not only are these essential skills that can help you throughout your entire life but in the simple act of making food you can learn more about cultures, flavors, and your own preferences. Considering you already have to make yourself meals every day it's a relatively easy hobby that doesn't require buying a lot of materials. You can ask your family members for some of their favorite recipes or even enroll in a cooking class to sharpen your skills in the kitchen.
#5 Running
Running is a great hobby for people interested in a more active hobby. Running has been linked to improvements in mental health and is also a great way to exercise. This activity simply requires a sturdy pair of shoes and your own two legs. Your can also make running more enjoyable by listening to your favorite songs and inviting a friend to tag along.