Most Impactful Movies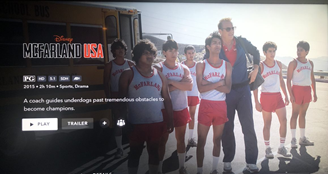 McFarland, USA
Rated: PG
Year:2015
Genre: Sport/drama
Available on Disney+
Favorite quote: "It's not the size of the dog in the fight, coach. It is the size of the fight in the dog."
In this breathtaking and inspiring movie based off true events, coach Jim White moves his family all the way from Boise, Idaho to a tiny town in Mcfarland, California. Jim White is on his last straw moving his whole family to the town because he was fired yet again since he lashed out at a student. While at the school he notices some of the boys that go out in the fields to work for their families have exceptional running skills. Jim White takes a group of mostly ignored individuals and creates not only a wonderful team but a family. Throughout the movie, you watch White as he grows as an individual, coach, and father/husband, and how the community cheers on the track team. This really was a heartwarming movie that highlights the importance of community and perseverance. I personally find most sports movies to be a bore because I have never been interested in sports, but I was captivated the whole time watching this movie.
Hidden Figures
Rated: PG
Year: 2016
Genre: Drama/history
Available on Prime Video, Hulu, and Disney+
Favorite quote: "Their path to advancement might look less like a straight line and more like some of the pressure distributions and orbits they plotted, but they were determined to take a seat at the table."
This movie highlights the story of three bright and intelligent African American women who work at NASA. These three women-Katherine Johnson, Dorthey Vaughan, and Mary Jackson- help with a particularly important moment in American history, the launching of John Glenn into orbit. The movie shows the discrimination these women face and how they are disregarded for their race and gender in the workplace and life in general. These women are incredibly strong and brilliant who inspire all who watch the movie. This movie had it all. It was heart wrenching but also inspiring and even comedic at times.
The World Trade Center
Rated: PG13
Year: 2006
Genre: Drama/War
Available on Hulu and Paramount+
Favorite quote: "We were prepared for everything. Not for this. Not for something of this size. There is no plan."
This movie is based on the experiences of a few police officers during the traumatic event of 9/11. The movie focuses in on two Port Authority officers Sargent John McLoughlin and Officer Will Jimeno as they are trapped in the collapsed building during their efforts to provide aid. This movie not only highlights the efforts of all the rescue workers but focuses on showing how this event affected family and loved ones all over America. 9/11 was a horrible event in American history and this movie really showed the sheer impact of this day and the emotions of everyone that were there when this is happening. This is especially captured where in one part of the movie they pan over to the hundreds of missing person posters along the walls. I watched this movie last year in my APUSH class and I was tearing up the whole time.