What awaits at Fright Fest?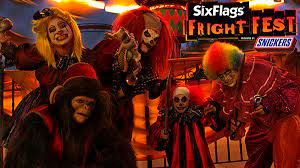 Fright Fest is a time of great horror for many people around the world during October and September. From ghoulish ghosts and scary scarecrows, Fright Fest is a time of excitement and thrill for some while others find it striking fear and horror. Fright Fest has many rides from haunted houses, scare zones and rides in the dark. You can find multiple activities to participate in to make sure you have a spooky experience. The events you can find there range from The Uprising Parade: Nightly Call of the Dead-An evil army is stirring, and the tortured souls only answer one call – to come out at once and terrify you ALL. NIGHT. LONG, The Ringmaster's Cabaret-Be mesmerized by illusions, music, and freakish acts in this live show, Love at First Fright-This live show features classic music, singing, and dancing by all your Halloween favorites, and The Nightmare Rhythm Machine-The Ringmaster and his pack of miscreants have banded together to draw you into their nightmare with this rhythmic drum experience.
The different scare zones include the demon lair by the Mardi Gras, nightmares by Yukon territory, lost circus by the county fair, wretched Meadows by the southwest territory, and lastly the forbidden forest by Yukon territory. The haunted house that are included are 13th Order-Deep within these woods lies the dark secrets of a malicious society in search for their next chapter. Presented by M&Ms®, Big Top Terror-Take a walk through this insane Big Top… Will you ever see clowns the same way again? Presented by MILKY WAY®, Bloodshed-Dare journeys through the back road with a dead end to explore the backwoods shed of terror! Presented by SNICKERS®, Condemned-This facility has evil growing inside, searching for a new host. Do not get too close… Do what you can to escape the Condemned. Along with all the rides and attractions you can also head over to the food stands to get a ghoulish treat or get some of your spooky apparel from the gift shops along with some Knick knacks as well. Head over to the Halloween Park of the year lasting from September to October.