Two things to watch for the Blackhawks this season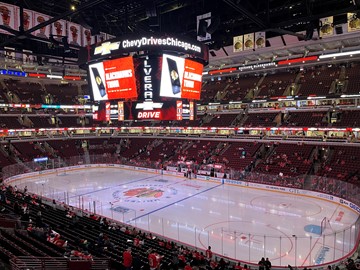 The Blackhawks have been projected to finish at the bottom of the league because of a clear purpose to rebuild and tank for the number one pick. But so far at the time of writing, they have been off to a decent start and are super fun to watch. In a year that many have no hope, here are two things you can look forward to watching this season.
Eyes on the rookies 
The Blackhawks have many players making their NHL debuts this season. Midway through the season, it is expected that 2020 first round pick Lukas Reichel, who is currently the organizations top prospect will make his debut. He only played in a few games last season, so with a lot of experience playing for the AHL Ice Hogs, it would not be surprising if he is getting some consistent ice time in the NHL soon. Also, 2022 first round pick defenseman Kevin Korchinski, who had an amazing training camp and preseason, is a player that could really be the difference maker for the Hawks down the road, as he possesses tons of speed and skill. With the Blackhawks having their best prospect system in a while, it will definitely be something to keep an eye on.
The last year of Kane and Toews? 
There have been rumors circulating since the summer that superstars Patrick Kane and Jonathan Toews will request trades from the organization before the deadline or leave the team and pursue free agency in the 2023 offseason when their contracts expire. Kane, who is still at the top of his game and Toews, who is fully healthy for the first time in a few years, would definitely be attractive to teams in a playoff push. But who knows? Because if the Blackhawks defy all odds and surprise everyone, a new chapter of their Blackhawk careers could just be starting. No matter what happens though, it's safe to say that if this truly is the last of Kane and Toews in Chicago, the sports landscape and identity of the City will not be the same.