Tips for Saving $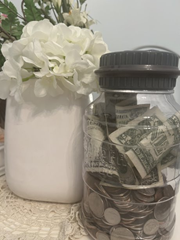 Whether you have your eye on an expensive gift, are looking for a car, saving for college or traveling, it's important to know how to save. Learning how to handle money and to budget at a younger age are valuable skills that you will need in your adult life. It is important to build good money handing skills young so that you are not super overwhelmed in the future.
Keep Track
Although it might seem obvious keeping track of not only how much you spend but what you are spending it on is a simple and effortless way to save. When you are not conscious of how much you have been spending you can overspend. Whether you write it down in your journal or use a budgeting app, it helps to be aware of what you are buying.
Savings accounts
Saving accounts are wonderful places to put your money and are especially important if you are trying to save up some serious amounts of cash. In addition, if you allocate a portion of your work money towards a savings account it will be in a safe place where it can grow.
Earn to Save
This might be a no brainer to many but a very efficient way of building your savings is by building your income. Additionally, having a job in high school teaches you a lot of things that school does not. For some people, going to school and having a job might be too overwhelming but there are lots of great summer jobs and temporary jobs like babysitting or dog walking that you can pursue during the weekends.
Set Goals
Not only is setting goals beneficial for saving but in any aspect of life you want to improve on. Setting realistic goals on how much you want to be saving and spending is undoubtedly helpful. The key word being realistic because if your goals are not attainable then they are just for show.