Environmentally Friendly Clothing Stores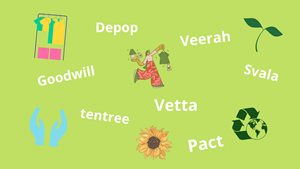 Did you know the world consumes around 80 billion new pieces of clothing every year? Fast fashion is a term used to describe a highly profitable and exploitative business model based on replicating catwalk trends and high-fashion designs, mass-producing them at a low cost. As a result, it produces the growth of water-intensive cotton, the release of untreated dyes into local water sources, and having people work low wage jobs and poor working conditions. Some people think that fast fashion is the future of the fashion industry, it's profitable and cheap. However, others think that it is a major problem because of the secrets it's concealing behind curtains. Even though supporters of fast fashion think it is an industry too profitable to forget, it can't be ignored that fast fashion is an extremely harmful event taking place and must end with decreased consumerism, sustainable fibers, stricter trade policies, and other measures that will help the cause. One way you can minimize this problem is by buying from environmentally friendly clothing companies, secondhand stores, or thrifting. As a person who has bought from fast-fashion companies themself it is highly addicting. You look at the price tag from stores like H&M, Shein, etc. compared to eco-friendly stores and think you could get twice as many items for half the price. Which is a valid point, but you must think of the consequences of buying from these stores. But in no way must you completely go green, you can always start small and go from there. Here are some eco-friendly clothing stores to start your green journey:
Pact: $-$$ Pact is known for its organic cotton clothing that uses up to 81 percent less water than traditional cotton, avoids the use of chemicals, and is supremely softer than the alternative—a true win-win for everyone involved. They use the practices of GOTS certified organic cotton, Fair Trade Certified factories & practices, eco-friendly packaging, and clothing donation program.
Vetta: $$-$$$ Vetta specializes in creating themed five-piece capsule collections that can be reworked into a month's worth of outfits. They use the practices of GOTS certified sustainable & upcycled fabrics, responsible factories, partially solar powered, and recycled packaging.
tentree: $-$$ tentree upholds the highest standards for people and the planet in its manufacturing process. As the name suggests, the company plants 10 trees for each item purchased and has a goal of planting one billion trees by 2030. They practice, Certified B Corp, Climate Neutral Certified, sustainable & recycled materials, WRAP, BSCI, SA8000, or Fair Trade certified ethical production, and environmental initiative.
Svala: $$$ This company creates luxury designer vegan handbags, purses, bags and totes. Each bag is handcrafted sustainably and ethically in LA with high-quality, premium vegan leather PU, cork, and Piñatex.
Veerah: $$$ Veerah is an NYC-based designer vegan shoe company founded and led by women to "do good and look incredible". Its innovative apple peel leather shoe collection is crafted with cushioned insoles made from algae blooms. Each pair is transformative with interchangeable shoe accessories to create more looks with less.
Thrifting: $-$$$ Thrifting is a great way to recycle; you can donate clothes you no longer wear and buy more clothes, eliminating waste in the process. By using preowned clothes and accessories, you are taking another step of making our planet safe again! You can shop at thrift stores like Goodwill or shop online at places like Depop.
There are plenty of other environmentally friendly stores out there, but I hope this will give you an idea of where to start and be your first steps of incorporating eco-friendly activity in your life.